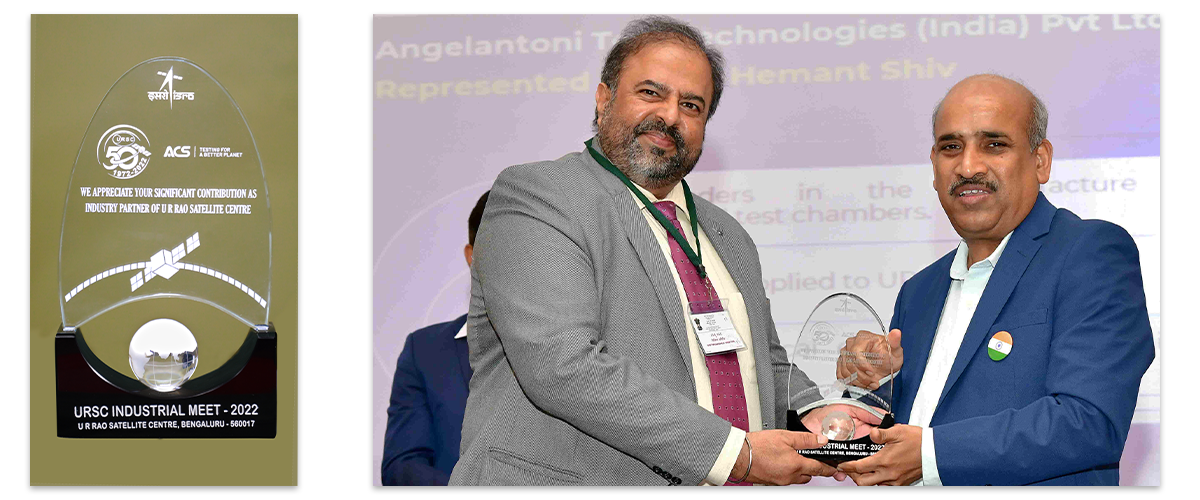 URSC awarded ACS during the Golden Jubilee Celebration
ACS received a recognition from the URSC, India's leading centre of the Indian Space Research Organisation (ISRO) for satellite construction and related satellite technology development, during its Golden Jubilee celebration.
The U R Rao Satellite Centre (URSC), India's premier satellite design, development and manufacturing agency of the Indian Space Research Organisation (ISRO), has celebrated 50 years of success and was pleased to thank ACS technology for its contribution to their growth and long journey. 
Angelantoni Test Technologies has been an industrial partner for many years in supplying testing solutions: the special 7m diameter wide by 11m deep Thermal Vacuum Chamber, capable of testing entire satellites, was entirely designed and built by us. 
In the long-standing cooperation, there is mutual satisfaction on both products and services: we also provided the URSC with several Discovery My and CST chambers and they recognised the excellent assistance provided by ATT India, the ACS subsidiary, for the uninterrupted operation of the chambers.
Also from Angelantoni Test Technologies, thanks to URSC for the trust and appreciation.
The large ACS TVC built for ISRO
Inaugurated in February 2007 in Bangalore with a ceremony presided over by the then Italian Prime Minister Romano Prodi, the large 7 by 11m space simulator is the biggest in the URSC; it reproduces the environmental conditions that satellites and components will be exposed to in space. 
Equipped with 15 independent shrouds, it can reproduce a temperature range between -190°C and +130°C and reach a limit of 10-6 mbar thanks to special cryogenic pumps operating at 10°K (-263°C).
Cooling is provided by liquid nitrogen, stored for a total of 500,000 litres in four tanks, each 22 metres high.
The Thermal Vacuum Chamber is managed and supervised by a control and management system and also allows data exchange via fibre optic cable with the satellite control system.
Other features: 
Tests: high vacuum, temperature
Temperature variation rate:
1°C/min from -100°C up to +100°C
1°C/min from +100°C up to -100°C
Special features:
Door with tilting system for satellite loading
Special trolley for satellite loading on rails
Internal monorail crane
Satellite horizontality control system
From 1972 to 2022: a 50-year list of achievements for the U R Rao Satellite Centre 
Beginning with Aryabatha, the first satellite launched in 1975, over 100 state-of-the-art satellites have now been successfully designed and assembled at the space centre, first known as ISSP, India Scientific Satellite Project, then as ISAC, ISRO Satellite Centre, and renamed in 2018 URSC, in honour of the first founding Director and visionary Prof. U R Rao. 
The Centre celebrated its golden jubilee this year during a ceremony attended by current and former presidents of the Indian Space Research Organisation, as well as various dignitaries, collaborators, technology partners and supporters. 
Among the guests was Angelantoni Test Technologies India, which received a special award for its valuable collaboration with the Indian Centre. 
ATT India, the Indian subsidiary of Angelantoni Test Technologies
To meet the Indian industry's demand in producing high quality competitive products, Angelantoni Test Technologies has been present in India since 2014 with a subsidiary, Angelantoni Test Technologies India (ATT India).
The aim is to offer the benefits and novelties of European technology customized for the Indian market and to provide its esteemed customers - especially in the automotive, aerospace, defence and light engineering sectors - with international quality products with 'Best-in-class' pre- and after-sales services.