ACS complete vehicle test chamber at ICAT, primary Validation & Testing Center in India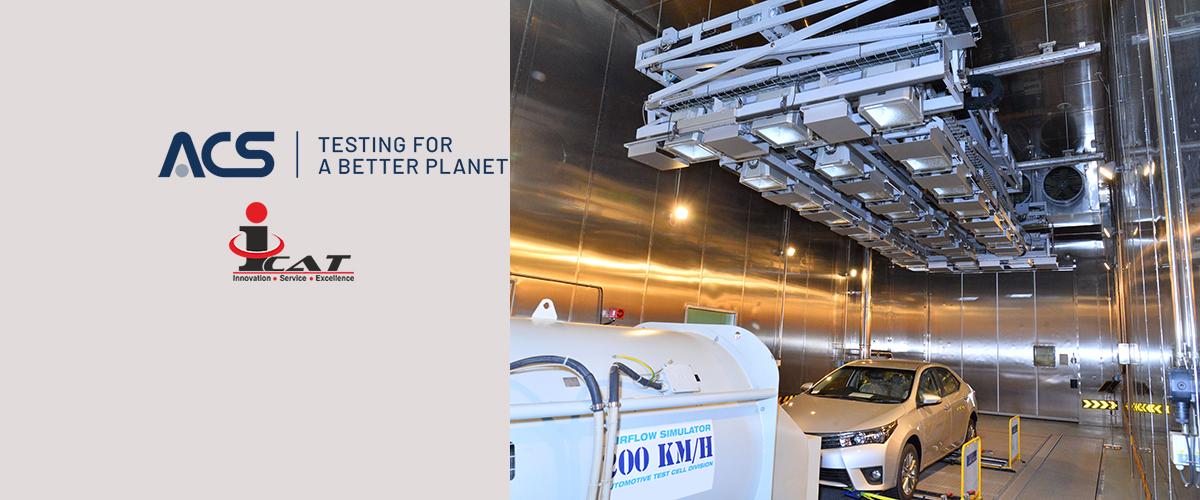 One of the largest Climatic Dyno Chambers installed in India, ACS emission test chamber is also equipped with solar light and wind simulation systems.
In order to perform emission testing according to standardized guidelines, the ACS chamber is coupled with a rolling road dynamometer, besides gas collection and analysis systems, supplied in collaboration with first class partners in this field.
The equipment allows ICAT to perform a wide range of combined tests:
Mass emission test (for vehicles upto 3.5 tonne GVW) at extreme temperatures, with humidity control and solar loading
Emission testing as per Euro-V (Petrol – Cold Emission), BS, ECE, EPA, Japan & Indian regulations
Vehicle performance tests-Cold startability, heater performance, Cabin HVAC performance, etc.
Customer defined R&D Tests.
The International Centre for Automotive Technology (ICAT), developed under NATRIP (National Automotive Testing and R&D Infrastructure Project) by Govt. of India, is a leading world class automotive testing, certification and R&D service provider.
Established in 2006 in Manesar, approximately 38km from Delhi Airport, ICAT is providing quality services to the industry in all the domains of Automotive and Non-automotive development, such as Powertrain, Noise Vibration and Harshness, Component, Fatigue, Photometry, Tyre & Wheel, Passive Safety, EMC and CAD & CAE.
ICAT provides Certification/Homologation, Design, Testing & Validation, Powertrain development, Training and Calibration services.