Battery Industry
The ACS climatic chambers for battery tests are dedicated to the testing of lithium ion batteries. The purpose of the test is to check not only the battery life, but also its degree of safety in certain environmental conditions.
Greenhouse gas emissions have increased globally in recent years: +62% CO2 equivalent in 2016 compared to 1990. Thus, the search for energy sources that protect the environment has become increasingly important and has led to applications that take advantage of rechargeable sources.
Electrification is expected to help reduce CO2 emissions when electricity is generated through significant shares of renewable energy.
The production of electric vehicles and the proliferation of portable electronic devices has led to an increase in battery research and development to introduce increasingly high-performance and reliable devices.
Customized battery test chambers

ACS is able to provide chambers that meet all the test requirements for battery cells, modules and packs of various sizes and with various temperature and relative humidity ranges.

Maximum operator safety
Ecological refrigerant gas
Integrated control system

Discovery My Climatic Chambers for Battery tests

ACS Climatic and Thermostatic Chambers make it possible to conduct tests in controlled temperature and humidity conditions similar to those in which the battery will operate during its service.

Maximum operator safety
Ecological refrigerant gas 
Integrated control system
ALL THE PRODUCTS IN THIS CATEGORY
Discover in detail the range of ACS environmental simulation chambers for battery testing.
In the automotive industry, the development of more efficient energy storage systems, in terms of energy density, environmental impact and safety, is the greatest challenge of the present stage of electrification. Among all the available technologies, the lithium-ion battery is currently considered the most promising in the short and medium term.
All ACS battery testing solutions regard lithium-ion battery testing and have been developed to offer lithium-ion battery testing labs the most comprehensive test package, sized according to battery cells, modules and packs.
Related articles and projects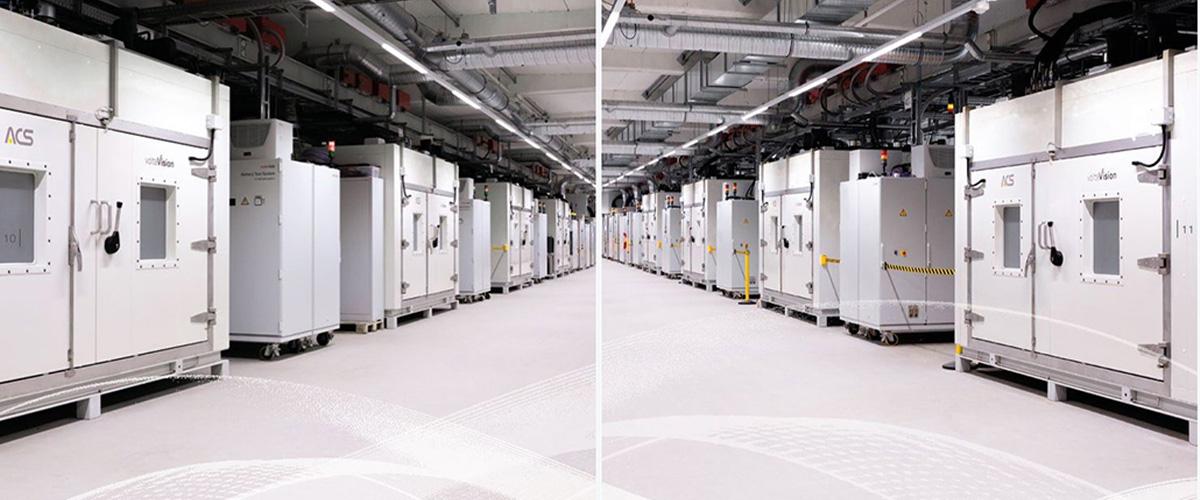 05/05/2021
ACS supplied the innovative VOLTAVISION test laboratory with most of their climate test benches for the lithium-ion modules and high-voltage batteries
ACS supplied most of the climate test benches for the lithium-ion modules and high-voltage batteries for Voltavision.