Climatic Test
Thermostatic Test
Other areas
Automotive industry
Battery Industry
Aerospace and aeronautics industry
Battery Test
Discovery My Climatic Chambers for Battery tests
ACS Climatic and Thermostatic Chambers make it possible to conduct tests in controlled temperature and humidity conditions similar to those in which the battery will operate during its service life.
Battery charge and discharge testing cycles are a key activity in laboratories doing battery testing. The instruments used for these tests often subject batteries to demanding and long-lasting testing cycles.
The Discovery My range for battery tests is available in the standard, stability test, energy saving and 5K/min and stress screening test versions, in different volumes, to meet every customer's needs.
These chambers can be supplied with the new ecological refrigerant gas R472B, having a GWP of 526. Click on the logo for further information.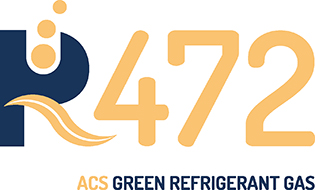 The product range for battery testing was developed in accordance with the hazard levels defined by EUCAR, where each hazard level is associated with a series of accessories to prevent it.
Once the hazard level has been established in accordance with the EUCAR table, to obtain complete protection it is recommended that the equipment be provided with all the devices required for that specific level and those below it.
BENEFITS
The compact body in RAL 7044 grey provides excellent corrosion protection with a powder coated finish
The electromagnetic door lock provides maximum operator safety
Ecological refrigerant gas in line with the European Regulation 517/2014
10" touchscreen panel with an intuitive, user-friendly interface
New software that allows remote control of all chamber functions
Automatic reporting, self-diagnosis, preventive maintenance
The technical data sheet for battery test chambers changes according to the accessories that will be selected for your hazard level.
 Download the accessories table based on the reference hazard level.
To download the technical data sheets for the chambers in the standard configuration, click on the model you are interested in:
Inspection window
Ecological refrigerant gas in line with the European Regulation 517/2014
Internal light
Electromagnetic door lock
Wheels and feet
Download the catalogue to see the full standard configuration. 
Additional portholes
Water-cooled condenser
UPS for the PLC
Stainless steel internal shelves 
Notched porthole 
New R472B refrigerant gas
Download the catalogue to see the complete list of accessories.
The MyKratos™ management software is embedded in the machine in built-in and completely dedicated hardware, which allows the control and management of the chamber functions. No installation is required, and it can be accessed from a PC via web browser or via the free app developed for tablets and smartphones. MyKratos™ allows multiuser and multilevel connections, even from different devices.
The MyAngel24™ self-diagnosis and remote service module is also available and included with the software.
BASIC VERSION


E VERSION

ES VERSION

flower® VERSION

ESS VERSION

CLIMATIC AND THERMOSTATIC MODEL

CLIMATIC MODEL

CLIMATIC AND THERMOSTATIC MODEL

CLIMATIC MODEL
CLIMATIC AND THERMOSTATIC MODEL


Field T -40/+180°C
Field T -20/+180°C


Field T -40/+180°C

Field T -40/+180°C
Field T -70/+180°C


DM340 (T)
DM600 (T)
DM1200 (T)
DM1600 (T)

DM340 E
DM600 E
DM1200 E
DM1600 E

DM340 (T) ES
DM600 (T) ES
DM1200 (T) ES

FM340
FM600
FM1200

DM 250 C (T) ESS
DM 500 C (T) ESS
DM 1000 C (T) ESS
DM 1400 C (T) ESS

Field T -70/+180°C



Field T -70/+180°C

Field T -70/+180°C



DM340 C (T)
DM600 C (T)
DM1200 C (T)
DM1600 C (T)



DM340 C (T) ES
DM600 C (T) ES
DM1200 C (T) ES

FM340 C
FM600 C
FM1200 C


Related products
Customized battery test chambers

ACS is able to provide chambers that meet all the test requirements for battery cells, modules and packs of various sizes and with various temperature and relative humidity ranges.

Modular walk-in chambers

ACS Modular Walk-in chambers combine the guarantee of reliable and reproducible tests with the advantage of an easily configurable product, quick to assemble and easy to renew in case of...

Corrosion test chambers

Climatic chambers for corrosion testing can help predict the resistance of materials in order to estimate the life cycle of components or complete products.
Contact us
Località Cimacolle 464 06056 Massa Martana (PG) Italy

Tel +39 07589551