ACS space simulator for ESA - European Space Agency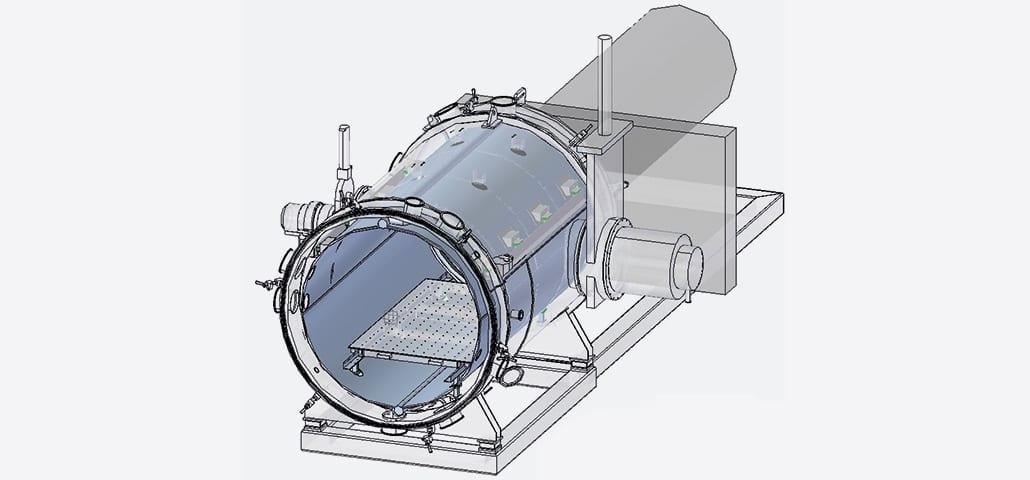 Discover the project developed by ACS for the European Space Agency, whose European Space Research and Technology Center (ESTEC)  is the reference center for satellite testing in Europe!
The consolidated know-how acquired by ACS in aerospace testing has allowed our customers to deal with demanding projects, such as that of the space simulator supplied to ESA (European Space Agency). The European Space Research and Technology Center (ESTEC) is the reference center for satellite testing in Europe and boasts a large space simulator, a high vacuum facility with one of the largest solar simulators in the world.
To increase the productivity of the ESTEC research center, in 2009 ESA decided to modify an old vertical space simulator (diameter of about 1.5 meters and depth of 3), turning it into a horizontal one and to complete the facility with a smaller solar simulator. One of the aims of the project was to test components of the Bepi Colombo satellite, whose launch was planned for the year 2015 and whose trajectory would bring it to pass within a very short distance from Mercury.
ACS has supplied the new shroud, three cold plates, the thermal control unit (LN2 and GN2) for the shroud and the control system of the entire space simulator.
The simulation within VTC 1.5 includes, among the main features:
High vacuum in the range of 10-7 mbar
Shroud temperature: ambient/-190°C in natural circulation mode of LN2
Shroud temperature: -150/+150°C in pressurized GN2 circulation mode
Solar simulation 15kW / m2 on a target area of 0.5 m2
for a total of 7.5 kW of dissipated energy
Presence of 3 thermal plates in the temperature range -60 ... +125°C
Other specific features include the 2000 h continuous test duration and the "unattended mode" operating mode, with implications for the equipment reliability.
ACS experience in all the operating modes required by space simulation specifications (natural circulation of LN2, circulation of pressurized GN2 and indirect thermoregulation system), the high standard of automation and the interface, offered more than just an exhaustive solution for the specific ESA's requirements.
The SMS alarm system made it possible to satisfy the security needs in "unattended mode", with a feature already successfully implemented in the past. The powerful graphical user interface developed in WinCC proved to be in line with the customer's requirements.