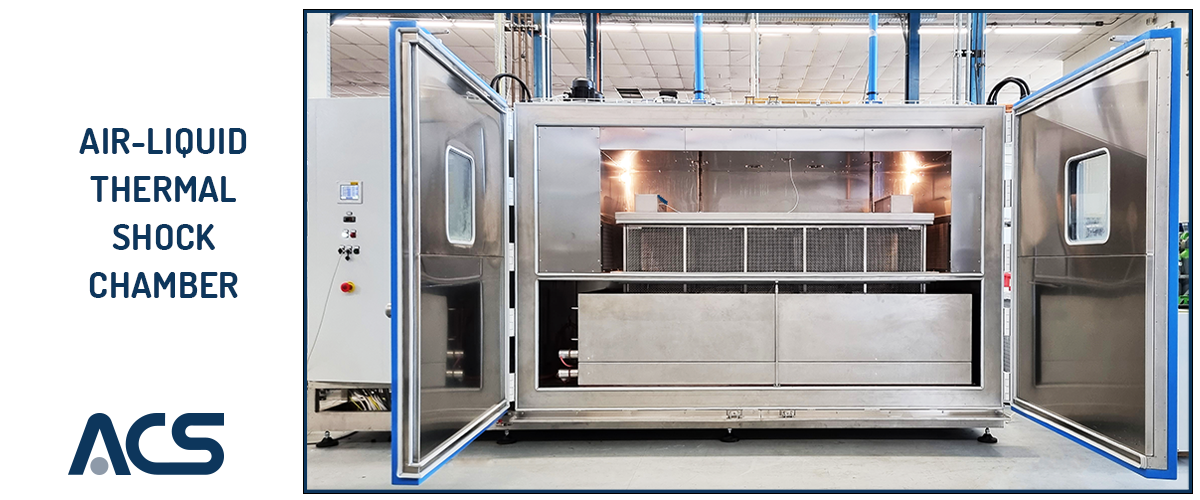 ACS air-liquid thermal shock chamber
The unique ACS chamber for air-liquid thermal shock can also be used in the automotive sector, both on batteries and engine compartment components.
Thanks to the extreme flexibility that characterises ACS, a very special new realisation: a device capable of performing air-liquid thermal shocks.
The ACS product range already includes chambers for thermal shock tests of either the air-air type or the liquid-liquid type, where the medium used to cause the thermal shock between a hot and a cold environment is the same.
It's the first time that ACS has introduced the mixed type for the realisation of a highly customised product. It has entailed the study of technical solutions different from those used in other thermal shock machines and specific to solve the problems arising from the coexistence of two environments with different fluids.
The chamber, which is large in size, is intended for testing fibre optic connections for submarine use.
But the uses of the air-liquid thermal shock chamber can be many: this type of machine can perform tests for automotive applications, both on batteries and engine compartment components.
How it works
The specimens are placed inside a basket with an internal volume close to 1 m3. Movement occurs vertically through electric actuators between the two environments, in a cyclic manner.
The start and loading environment is located at the top: it maintains the specimens at a temperature between -40°C and +120°C by forced circulation of temperature-controlled air.
The arrival environment is located at the bottom: it consists of a tank in which a mixture of water and glycol is kept at a temperature of between 0°C and +5°C.
The two environments must remain separate, so the basket is equipped with a floor and a ceiling, both insulated, which act as a separator depending on where the basket is located. The water is kept at a constant level and at a level that covers all the specimens when the basket is immersed.