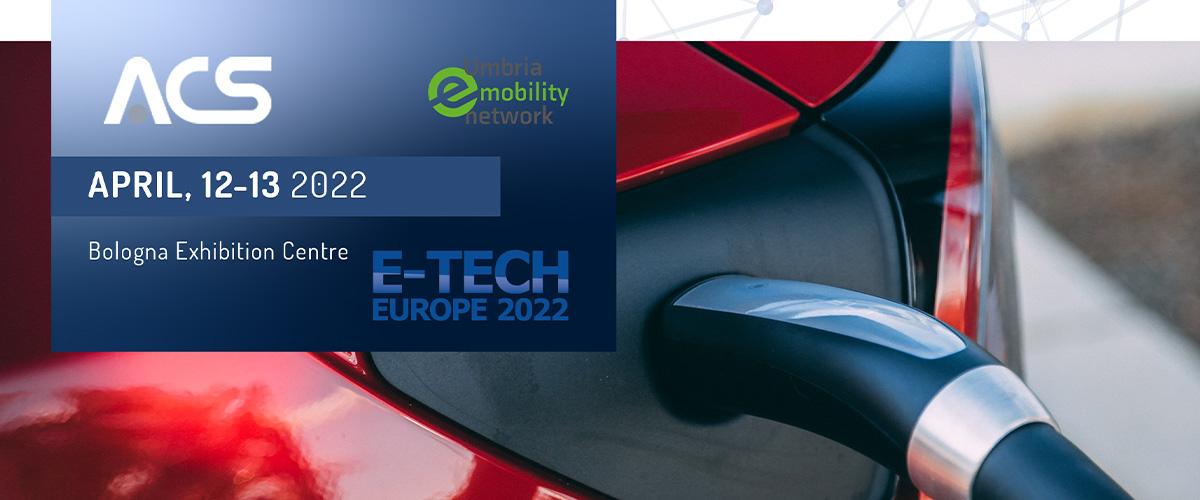 ACS with Umbria E-Mobility Network at E-TECH EUROPE, the event dedicated to the electric vehicle industry
On April 12th and 13th E-TECH EUROPE 2022 will be the set to showcase the most advanced Electrical and Electronic Technologies – all primed for the upcoming industrial and economic automotive revolution.
Also ACS in the sustainable mobility industry Network , one of todays most innovative and developing sectors at both a national and international level. 
The Network aims to link companies operating in the technologies and services supply chains for electric mobility, to develop and promote the graduation skills and experiences of Umbria ecological mobility transition macro-process. A central role in the Network's activities will be collaboration among manufacturers, universities and research centers, which constitute the necessary ecosystem to develop regional and national supply chains able to face critical issues within global market developments and take advantage of the enormous economic opportunities offered by Next Generation EU funds.
We are confident that ACS, with its vocation for innovation and sustainability, enriched by its experience in the field of reliability, will be able to offer the network of Umbrian companies an important contribution to the achievement of its ambitious goals.
We look forward to seeing you at stand A10 to illustrate our standard and custom-designed testing solutions for the specific sector, dedicated to lithium batteries and adapted to the different testing needs on cells, modules and packs.
Download
Download the insights related to the article.