Climatic Test
Thermostatic Test
Electronics industry
Other areas
Automotive industry
Battery Industry
Aerospace and aeronautics industry
Energy saving climatic chambers, Flower®
The Discovery My "Flower®" climatic chamber combines the possibility of carrying out climate tests with environmental protection, thanks to its reduced energy consumption and use of eco-friendly and recyclable materials. Energy consumption was reduced in the climatic test stabilization stage through a patented system that guarantees energy savings of about 70%, with absolutely no loss in performance. Noise emissions were reduced by 50%.
These chambers can be supplied with the new ecological refrigerant gas R472B, having a GWP of 526. Click on the logo for further information.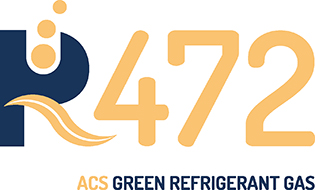 The range of the ACS "Flower®" energy saving series of Climatic Chambers allows you to control the temperature and humidity inside the test compartment, in a range from -70°C to +180°C (temperature) and from 10% to 98% (relative humidity), according to that shown by the humidity diagram. Energy consumption has been reduced by means of:
an inverter that controls the compressor speed and allows adjustment of the compressor power for different work needs
a "cold accumulator" for increasing the cooling capacity
Noise emissions were reduced by 50%, thanks to:
the compressor inverter, which reduces the rotation speed by about 40% of its nominal value depending on the working conditions
a silencer installed on the compressor that attenuates the noise during maximum rotation speeds
an automatic control system that reduces the rotation speed of the condenser fan according to the ambient temperature and the cooling capacity
BENEFITS
The compact body in RAL 7044 grey provides excellent corrosion protection with a powder coated finish
The electromagnetic door lock provides maximum operator safety
Ecological refrigerant gas in line with the European Regulation 517/2014
10" touchscreen panel with an intuitive, user-friendly interface
New software that allows remote control of all chamber functions
Automatic reporting, self-diagnosis, preventive maintenance
Inspection window
Ecological refrigerant gas in line with the European Regulation 517/2014
Internal light
Wheels and feet
Download the catalogue to see the complete list of accessories.
Additional portholes
UPS for the PLC
Stainless steel internal shelves
Notched porthole
Electric power shut off to specimen during alarms
New R472B refrigerant gas
MyAngel24™: the Interactive Support System
Complete the form to see the complete list of accessories
The MyKratos™ management software is embedded in the machine in built-in and completely dedicated hardware, which allows the control and management of the chamber functions. No installation is required, and it can be accessed from a PC via web browser or via the free app developed for tablets and smartphones. MyKratos™ allows multiuser and multilevel connections, even from different devices.
CLIMATIC MODELS


CLIMATIC MODELS

T -40/+180°C

T -75/+180°C

FM340
FM600
FM1200

FM340 C
FM600 C
FM1200 C
Related products
Compact Climatic Chambers (60-200 L)

The Compact Chambers combines performance and flexibility. Their limited size and ability to do climatic and thermostatic tests makes them the ideal solution for those who do not have eno...

Discovery My Climatic Chambers for stability tests

These chambers provide basic performances and was designed for general applications where high performance is not required. They are the ideal tool for tropical tests on pharmaceutical pr...

Discovery My Climatic Chambers

ACS Discovery My Climatic and Thermostatic chambers guarantee high performance, a generous standard configuration and many different accessories for adapting to all the requests of our customers.
Contact us
Office No. 9A, 3rd Floor, Tower B, Stellar IT Park, C-25, Sector 62, Noida - 201309 Uttar Pradesh

Tel +91 120 4230 043