Climatic Test
Thermostatic Test
Electronics industry
Other areas
Automotive industry
Battery Industry
Aerospace and aeronautics industry
Compact Climatic Chambers (60-200 L)
Quality and performance are continually put to the test, from the warmest to the coldest climates, from the effect of corrosive agents to stresses during packaging, transport and storage. These factors could lead to breakage, failures or a reduction in product life. ACS Climatic Chambers are designed to support our customers in the development of a product that performs at its full potential.
The Compact Line of ACS Climatic and Thermostatic Chambers combines performance and flexibility. Their limited size and ability to do climatic and thermostatic tests makes them the ideal solution for those who do not have enough space for a large test laboratory.
The carrying out of climatic and thermostatic tests helps to reveal potential defects before the specimen passes into production, ensuring:
A product of tested quality
Savings on design costs
Lower maintenance costs
More satisfied customers
These chambers can be supplied with the new ecological refrigerant gas R472B, having a GWP of 526. Click on the logo for further information.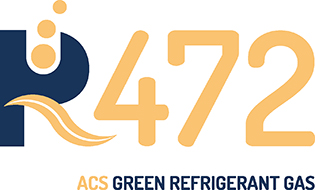 With ACS Compact Chambers it is possible to carry out both climatic and thermostatic tests. These are benchtop chambers that offer high performance in small spaces.
Reduced size
Easy installation
Low energy consumption
Low noise emissions
Complete configuration including an inspection window
A compact climatic chamber for use in R&D departments that need to test small components and limited size products.
BENEFITS
The compact body in RAL 9006 grey provides excellent corrosion protection with a powder coated finish
Ecological refrigerant gas in line with the European Regulation 517/2014
Touchscreen panel with TFT technology for faster control
Easy data entry during editing, control and cycle management operations
Inspection window
Ecological refrigerant gas in line with the European Regulation 517/2014
Internal light
Mechanical door lock
Download the catalogue to see the full standard configuration.
Additional portholes
Water-cooled condenser
Cart with wheels
UV lamp: For aging tests on painted surfaces, plastics, rubber, etc.
Internal shelves: in AISI 304 stainless steel, height adjustable, grid shelves to be added to the one supplied
Notched porthole
New R472B refrigerant gas
Download the catalogue to see the complete list of accessories.
The Compact Test Chambers are equipped with the powerful KeyKratos Plus touchscreen control system, based on PID control through PLC, having the following advanced features:
Memory capacity to 1000 cycle with 350 segments.
Unlimited real time recording of temperature and humidity versus time (LOG).
A trend chart for recorded variables available with a scale from -100/+200.
Messages on scheduled maintenance activities.
Synoptic graphs for the chamber, low and high stage refrigeration.
Data saved in CSV format (CommaSeparated Value) for easy export to Excel® (only for 110 and 200 l) via USB interface located on the  front panel (program files are easily convertible into graphic format).
Multi-chamber remote control is available as option together with WinKratos S/W.
CLIMATIC AND THERMOSTATIC MODELS

 Range T -40/+180°C 


Range T -40/+180°C
DY60 T


DY110 (T)
DY200 (T)

Range T -70/+180°C

Range T -70/+180°C
DY60 TC


DY110 C (T)
DY200 C (T)
Related products
Discovery My Climatic Chambers for stability tests

These chambers provide basic performances and was designed for general applications where high performance is not required. They are the ideal tool for tropical tests on pharmaceutical pr...

Discovery My Climatic Chambers

ACS Discovery My Climatic and Thermostatic chambers guarantee high performance, a generous standard configuration and many different accessories for adapting to all the requests of our customers.

Customized battery test chambers

ACS is able to provide chambers that meet all the test requirements for battery cells, modules and packs of various sizes and with various temperature and relative humidity ranges.
Contact us
Office No. 9A, 3rd Floor, Tower B, Stellar IT Park, C-25, Sector 62, Noida - 201309 Uttar Pradesh

Tel +91 120 4230 043