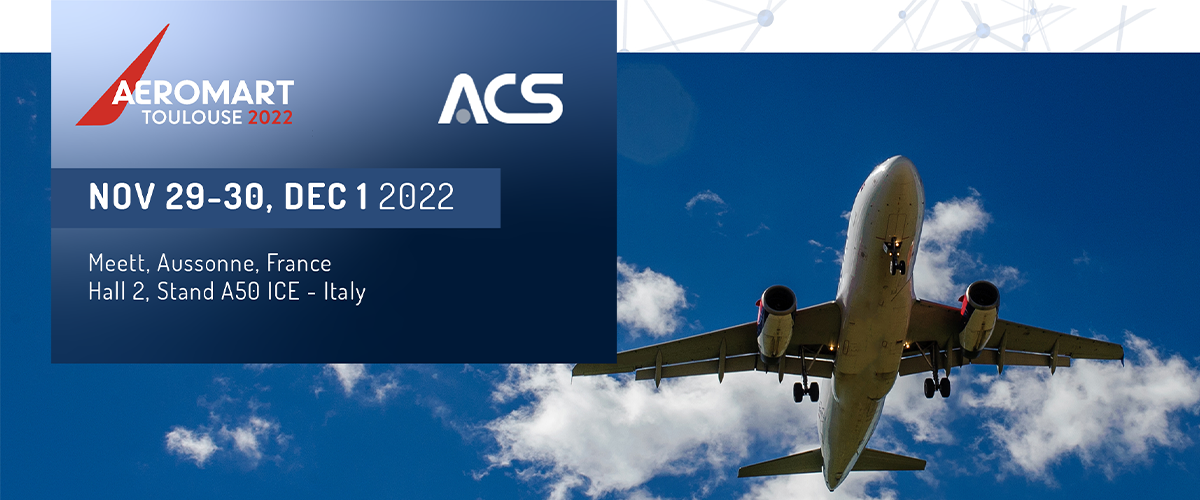 ACS @ AEROMART Toulouse 2022 | 29, 30 Nov. - 01 Dec.
AEROMART Toulouse is the global platform for the aerospace industry that brings together companies, manufacturers and service providers. Stand A50, Hall 2 - Italian Pavilion
ACS's undisputed leadership in aerospace testing will be present at AEROMART Toulouse 2022. We invite you to visit our stand A50 in the Italian Pavilion, Hall 2.
The 14th edition of the renowned international business convention dedicated to the aerospace industry will take place in Toulouse, France, from 29 November to 1 December.
Once every two years, Aeromart Toulouse gathers the purchasing managers of the world's major aircraft, equipment and systems manufacturers and the most qualified and innovative suppliers of parts and components. The packed programme of conferences and workshops also includes a series of customised B2B meetings via an interactive platform: it is the main goal of the event to connect companies, manufacturers and service providers from the entire global aerospace ecosystem.
A large attendance has already been announced: more than 1,200 companies from 45 nations are expected to be present.
Come and meet us! An interactive platform is available at this section of the exhibition website to schedule B2B meetings with our staff: we are waiting for you to evaluate your needs and identify the best solution to satisfy your requirements.
Read more about AEROMART Toulouse: toulouse.bciaerospace.com
Official hashtag: #AeromartTLS22
Contact us to request information
You can contact us via the form below.